https://www2.gnb.ca/content/dam/gnb/Departments/eco-bce/Promo/covid-19/steady20-e.pdf?fbclid=IwAR3YioXbBLz1KVeDBfJeo5SeBylH1b5He4CnyfuZe5YfGugD7PTD2iFlC_8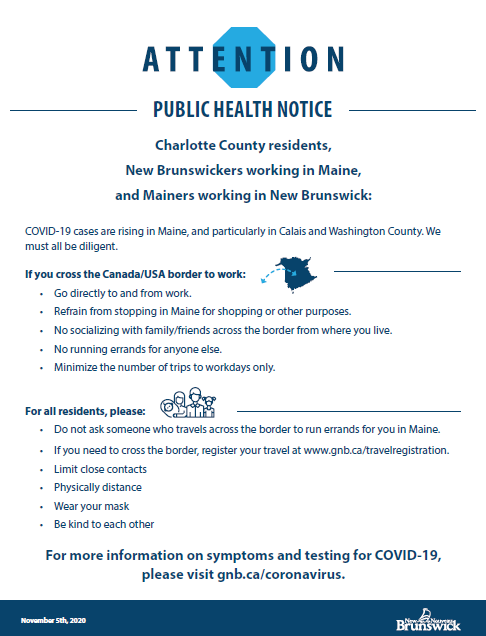 ATTENTION SENIORS
COVID-19 PANDEMIC SUPPORT FOR VULNERABLE SENIORS
INCREASED MEALS ON WHEELS CAPACITY
In recent weeks the United Way Saint John, Kings and Charlotte, in conjunction with other United Ways across the province, has been working with community partners to build capacity for additional support for vulnerable seniors/persons.
The United Way wants to make you aware of increased Meals on Wheels capacity in Eastern Charlotte County, as well as other areas of the Province. Hot or frozen meals will be available to seniors who may not be able to access/prepare healthy meals due to increased isolation and/or emergency measures.
Any senior interested in taking advantage of this service in Eastern Charlotte County should call Candace Durston at (506) 466-1759.
If you are able to pay for the service you will be asked to do so. If not, you will be asked if you are registered with Social Development (SD) for free meals. If you are not registered, you will be provided the contact details to do so.
However, you will not have to wait for the Social Development registration process to be completed before meals are provided to you.
Our thanks to the United Way for this valuable initiative.